Madeira Wine
It's February and I'm drinking Madeira, one of the world's great fortified wines.
It comes from the island of Madeira which lies in the Atlantic, nearly four hundred miles west of Morocco. Madeira wine wasn't always fortified, but in the late 1600s, to transport the island's wines on long sea voyages, brandy was added as a stabilizer. After long periods on a rolling, ship in equatorial heat, it became deliciously rich and the blend persisted. The island of Madeira is actually in African waters, but it is part of Portugal.
To make Madeira, clear brandy is added to the wine before it has completed fermenting. It is then heated, yes, heated, for three to six months. And that's just the average stuff. The very finest wines, (about three percent), are heated naturally. The casks are stored in attics under the hot, Madeira sun for twenty years, yes, twenty. After cooling and resting, it is aged some more, though not in the heat. Some great Madeiras may be forty or more years of age prior to sale.
There are four Madeira grapes, known as the "Noble varieties, each sweeter and richer than the one before. Sercial is the driest, followed by Verdelho, medium dry, Bual, and finally Malvasia, (also known as Malmsey), the richest darkest one of all. A popular light Madeira in the United States is Rainwater, so named from an incident in the mid 1700s when several casks were rained on overnight.
Madeira comes in a number of quality levels, based on age, all the way up to "Vintage," aged an additional twenty years in cask and at least two more in the bottle before release. Madeira from the 1800s is still available for sale, but expect to spend some money at the Vintage level.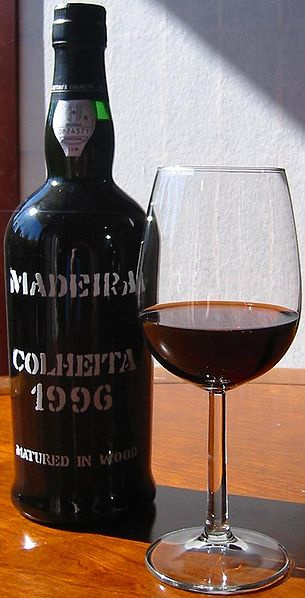 The early nineteenth century saw fully one fourth of the world's Madeira exported to the United States. It was used by the founding fathers to celebrate the signing of the Declaration of Independence.
A vast repertoire of gastronomic combinations is possible with Madeira Wine and varying according to the degree of sweetness of the wine. The more refreshing dry wines may accompany smoked fish or sushi, while the sweeter wines combine perfectly with dried fruit, honey cake, dark or milk chocolate. Off-dry wines are excellent with consommé and French onion soup au gratin, or even duck or goose foie gras, whereas semi-sweet wines blend well with cheese soufflé or wild berries.
The lighter varieties are excellent as aperitifs, while the Bual and Malmsey are definitely after dinner with cheese and chocolate. Madeira has a nutty, caramel quality that becomes progressively more pronounced with style and age. It should be served cool, fifty-five to sixty degrees. Generic Madeira will be labeled doce, sweet, meio doce, semi-sweet or seco, dry. It will probably not contain any of the Noble grapes.
One of the great things about Madeira is that you can't hurt it. After all it's been through, it's indestructible.
© text Black Sheep Wine and Beer Shop 2012

Photo credits: Madeira Tourism , Wikimedia Commons Bigfoto.com, Public Domain, MorgueFile.com., PDPhoto.org

Black Sheep Wine and Beer Store