Mulled Wines , Best Holiday Beverage
Glow Wine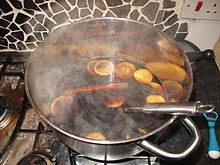 Well, now it's December. There may or not be much snow on the ground, but it is cold. It's the time of year when Sunday afternoon means football, wood stove and mulled wine. Hopefully there is a good game on, (I can usually find one), but the stove and the mulled wine help in any event.
Wine was first recorded as spiced and heated in First Century Rome, enhancing the flavor and it was thought to have health benefits. The Romans crossed most of Europe, conquering some and trading with all. The legions brought wine and viticulture up the Rhine and the Rhone and to the Scottish border, (being careful not to mess with the Picts), and brought their recipes with them.
Mulled wine in all its forms is basically wine (usually dry red), spices and dried fruit, simmered then served warm. It was once standard procedure to heat the wine by thrusting a hot poker into the mixture, which certainly worked, but introduced a fair amount of ash and grit into the mixture. You are still welcome to do it that way, and while it is dramatic, there are easier ways.
Gløgg, pronounced "glooog" and translates roughly to "glow wine", a reference to its warming effect as well as the rosy blush it may foster, during wintry times. After a day of skiing or snow shoveling, it's a welcoming warmer! As served in Scandinavia, it is similar to basic mulled wine but has more ingredients and higher octane. This version of mulled wine includes the addition of Port and Brandy, sugar, a few blanched almonds and more dried fruits. There are many variations of Gløgg: The Germans call it "Glühwein",Glow wine,(made with white wine), the Finns tend to use vodka, the Swedes use aquavit ( a caraway seed flavored spirit) and in Ireland, Irish Whiskey! Although Gløgg can be served immediately, it's best when left to age awhile, from a week to a year! Some people even use Gløgg as a marinade for beef or venison.
You can buy Mulling Spices ( Penzeys is our favorite) and Gløgg mix ( try Grandpa Lundquist) which is the easiest way to prepare "glow" wines. If you want to make your own, we have added a few tried and true recipes to our Black Sheep Pinterest Page,http://www.pinterest.com/blacksheepmaine/eat-drink-and-be-foodies/ , Black Sheep Facebook Page, https://www.facebook.com/blacksheepwineshop as well as our Black Sheep Website, http://www.blacksheepwine.com/ .
Mulled wines make great Holiday beverages. They smell like Christmas and warm you, body and soul; keep some warm and ladle into glasses as guests happen by. These beverages go down very easily. If you have more than one, do not drive for a while. You can make non- alcohol versions with either apple cider or cranberry juice. God Jul!

© text Black Sheep Wine and Beer Shop 2013

Photo/ Illustration Credits: Wikimedia Commons, Morgue File.com, Bigfoto.com

John and Jennifer VerPlanck