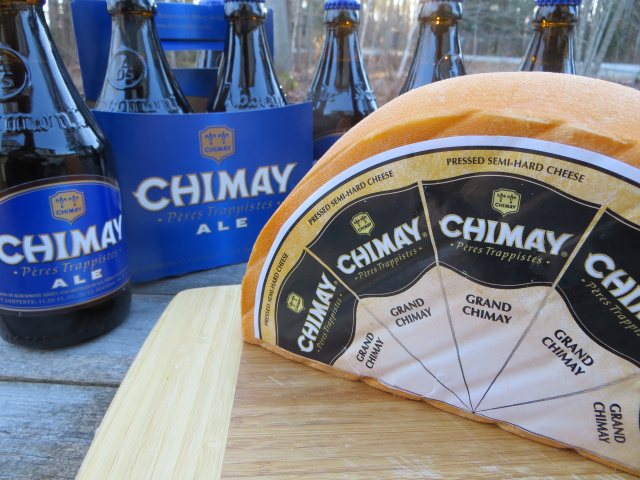 Ch…Ch…Ch…Cheese
Wine and cheese were made for one another! Look for a balance of intensity (as well as quality) between the two and you'll find some remarkable sensory experiences. Try the classic, advantageous pairings of Port with blue stilton, Amarone with parmigiano - reggiano or Sancerre with chévre.
The spectrum of different cheeses made around the world is staggering. This article will acquaint you with a few examples of good wine and cheese pairings as well as general information to keep in mind to better enjoy your favorite cheeses and wines together.
The simplest method is to look for the local cheeses in the region where your wine is from, as suitable wine and cheese pairings, such as serving Chianti with pecorino toscano.
Another basic idea is that your choice of wine to accompany soft cheeses depends on whether the cheese is fresh or mature. In the case of hard cheeses, it depends on whether it is made from raw or boiled milk. For example:
For soft cheeses that are fresh, such as mozzarella, pair with soft, dry to lightly sweet whites with full aroma and flavor such as Ribolla Collio or Vermentino di Gallura.
For soft cheeses that are mature (taleggio, fontina, Bel Paese, gorgonzola) try mature, reds with light tannins, good body and well-developed bouquet such as Barbaresco or Aglianico del Vulture.
Match hard cheeses from raw milk (cheddar, provolone) with mature reds of full body, bouquet and flavor such as Barolo or Teroldego Riserva.
Match hard cheeses from boiled milk (parmigiano reggiano, emmental, asiago, pecorino) with older vintages of full-bodied red wines with depth of flavor, well-developed bouquet, and generous structure such as Amarone della Valpolicella, Barbera d'Alba or Sicilian Cabernet Sauvignon.
A few tips: most white wines will be fine with most cheeses, while some red wines can be problematic, due to the presence of tannins. Avoid acidic goat cheeses with tannic red wines. A vintage wine is sometimes delicate and nuanced, so you will want a subtle flavored cheese to match those older vintages.

Here is a list of other pleasurable wine and cheese pairings to try:

Cabernet Sauvignon: Cheddar (sharp),Comte,Danish Blue,Vacherin Fribourgeois ,Gouda (aged).

Chardonnay: Brie, Epoisses,Comte,Jarlsberg,parmigiano-reggiano,Fontina val d'Aosta, Shropshire Blue.

Red Bordeaux: Brie,Camembert, Roqueforte,Tome de Bordeaux.

Côtes du Rhônes (red):Bleu d'Auvergne,Camembert.

Malbec: Cashel Blue, Iberico, Manchego, Taleggio.

Merlot: Gruyere, Camembert, Gouda, Pecorino Toscano, Toussaint.

Pinot Gris: Asiago Fresco, Ricotta, St. Nectaire, white stilton with fruit.

Pinot Noir: Cheddar (light), Edam, French Chévre ,Gouda, Gruyere, Lancashire, Port Salut,d'Affinois.

Riesling: Cheshire, Colby, Comte, Edam, Gouda, Morbier, d'Affinois, Swiss mountain cheeses.

Sangiovese : Asiago, Parmesan Reggiano, Pecorino Piave, Provolone.

Sauvignon Blanc : Brie, Bucheron, goat Cheese, Gruyere, d'Affinois.

Syrah/ Shiraz: Cheddar (sharp),Edam, Gouda ,Double Gloucester .

Tempranillo: Cheddar (sharp),Havarti, Mahon, Manchego .

Viognier: Blue cheeses (light), Brillat-Savarin, Goat cheese.

Zinfandel: Asiago, sheep cheeses, goat cheese, Gouda, Gruyere, Maytag Blue, Muenster, Pecorino .

Dry sparkling wines: Brie, Camembert, Cheddar (mild),Chevre, Edam ,Gouda, parmesan.

Sweet Wines/ Dessert wines: Blue cheeses, Taleggio.

Port: Cheddar (sharp), Gorgonzola, Roqueforte, Stilton.

© text Black Sheep Wine and Beer Shop 2012

Photo/Illustration Credits: Wikimedia Commons, Bigfoto.com, Public Domain,MorgueFile.com.

Jennifer Laskey VerPlanck