Growing Grapes in Maine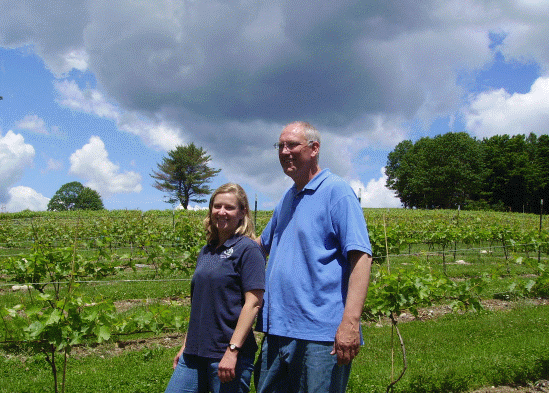 Vin de Maine
Have you ever thought about making wine yourself, from start to finish, growing the grapes right in your own back yard? Any gardener will tell you that Maine is not the ideal climate, with our very short growing season, low average temperatures and bitterly cold winters. Some people do have success though. Just 2 years after planting, you can be sampling your own grapes; in 3 years, you can be harvesting up to 15 pounds of grapes from each vine- I predict a grape crushing party in your future!
Several key conditions are necessary: you have to carefully consider your site, the soil, drainage, sunshine, wind and airflow, danger of early frost, and then also choose a winter hardy variety of the wine grape. Sandy loam seems to be the best suitable soil here in Maine. Despite the challenges, good quality wine can be made here. Research and development from multiple Universities across the country as well as Canada have resulted in more successful hybrid varietals.
There are cold climate grapes that you can mail order as well as sources for wine grape growing advice through the Cooperative Extension Service, New England Wine Grape Growers Assoc., the Maine Organic Farmers and Gardeners Assoc. and various Universities that have agricultural studies, in particular Cornell and the University of Minnesota. Plan now for spring planting…
Here is a list of the most common wine grape varieties grown in Maine to help you get started.
Red grape varieties:Marechal Foch - A very early ripening black grape with small berries that produce a fruity light red table wine. Leon Millot - An early ripening black grape. The wine has a distinct berry aroma. Frontenac - Extremely winter hardy red grape that produces a full bodied wine of high quality. Corot Noir (NY73 )-Vigorous and moderately resistant to powdery mildew. The red wine has full body with black pepper character and moderate tannin content. Marquette - high levels of cold hardiness and disease resistance with excellent wine quality. Wines have an attractive deep red color, desirable aromas of cherry, black pepper, spice, and berry, with substantial tannin structure rarely found in hybrid wines. St. Croix –hardy to minus 40 degrees and becoming popular with Northern winegrowers!
White Grapes varieties: Cayuga White - productive and disease resistant versatile grape can be made into a semisweet wine emphasizing the fruity aromas, or, using oak aging, into a dry, less fruity wine. St. Pepin - Wine produced is similar to Reisling in character. (must be planted next to other grape varieties because it requires cross pollination). LaCrosse -a good quality and fruity white wine. It has the benefits of early ripening and when hardened properly in the fall it is winter hardy to at least minus 25° F. Frontenac Gris - Suitable for high quality table and dessert wines, possible ice-wine as well. It ripens mid-season with aromas that include peach, apricot, citrus, and pineapple. Seyval Blanc- It's winter hardiness is medium, but it is an excellent white wine variety.
© text Black Sheep Wine and Beer Shop 2012

Photos Credits: Oyster River Winegrowers, Savage Oakes Winery, Cooperative Extension Service ,personal photo of the author

Jennifer Laskey VerPlanck